We are thrilled to announce that the Global Search Awards 2023 will be hosted as a live event for the first time in the beautiful city of Paris on Wednesday 12 July! The event will take place at the stunning Élysée Montmartre venue, and promises to be an unforgettable evening celebrating excellence in search marketing from around the world.
There will be no live stream for the awards, so make sure to book your tickets for the live event! 
Ticket Prices
Early Bird Ticket Prices

(Before June 23, 2023)

Individual Ticket – £325

Five Ticket Bundle – £1550

Ten Ticket Bundle – £3000

All prices +VAT (if applicable)
Standard Ticket Prices

(From June 24, 2023)

Individual Ticket – £375

Five Ticket Bundle – £1800

Ten Ticket Bundle – £3500

All prices +VAT (if applicable)
Event Guest Information
This event is ticketless. If you have received a confirmation email from your booking, simply turn up on the night and your name will be on the table plan with details of your seating arrangement.
RUNNING ORDER

18:30 - Drinks Reception

19:30 - Welcome Speeches

19:45 - Dinner

21:30 - Awards

23:30 (approx.) - Afterparty 

02:00 - Close
DRESS CODE

There is no formal dress code for the event. Our aim is for you to feel comfortable and confident throughout the night, and we encourage you to dress in a way that best represents you and your personal style.

Menu
Starter

Creamy Burrata & Aromatic Truffle served with Vibrant Coloured Tomatoes & a touch of Velvety Black Olive Paste (V)
Main

Tender Beef served with Savoury Oyster Mushrooms, Smoked Thyme Infused Potatoes & a Truffle Reduction (Served Medium)
Vegetarian Main

Fresh Cheese Ravioli served with Nasturtium Heart, Roasted Portobello Mushroom, Daikon Turnip & a Curry Infusion
Dessert

Fresh Raspberry & a Vanilla Cream served with a Rich Hot Chocolate Sauce
Please note, all guests will be served meals containing meat unless a dietary meal is requested.



Please see booking details for information about dietary requests. 
Booking Details
Dietaries 

We kindly ask that you inform us of any dietary requirements or allergies you may have prior to your visit, so that we can make the necessary arrangements. Our staff are well-trained to accommodate a variety of dietary requirements, including vegetarian, vegan, gluten-free, and dairy-free options. Please make us aware of any requests no later than Wednesday 28 June, any requests after this date cannot be guaranteed.



We take pride in creating a welcoming and inclusive environment for all our guests. We understand that everyone has different needs and preferences, which is why we offer a sensory menu. Please get in touch if you would like to make adjustments to your meal and we will work with the chefs to create a meal you will enjoy. Please let us know by Wednesday 28 June if you have any menu requests.



Access

We are committed to providing a comfortable and enjoyable experience for all our guests, regardless of any access requirements they may have. We understand that accessibility needs can vary widely, and we strive to be as inclusive as possible. If you have any specific requirements, we encourage you to let us know in advance of your visit, so that we can ensure that your visit is as smooth and enjoyable as possible.



Tickets

Please note: tables are allocated on a first-come, first-serve basis. All payments are due in advance of the event to secure tickets.



Cancellations: We regret that refunds cannot be made if tickets are cancelled within 28 days of the event.
The Venue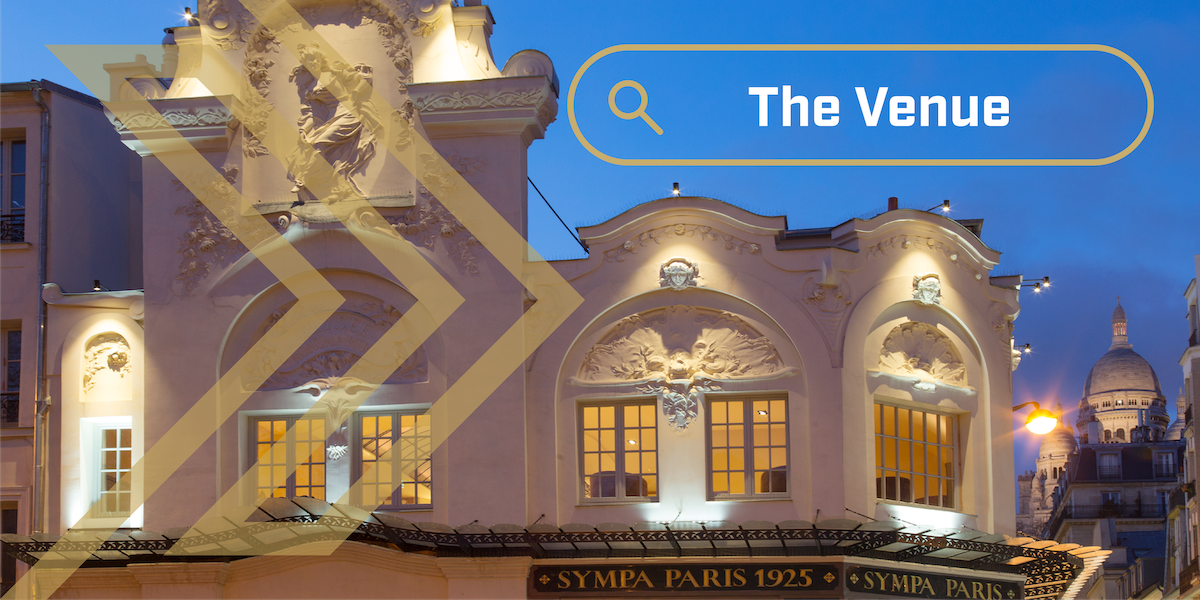 Located in the heart of Paris, the Élysée Montmartre is a historic venue that has been entertaining guests since 1807. Recently restored to its former glory, the venue boasts stunning Belle Époque architecture, creating the perfect space to celebrate the best in Search!
Your Host - Jenny Powell

Jenny Powell is one of the UK's most experienced and recognisable presenters, having appeared in some of the most loved TV shows in the UK.



She currently hosts her own weekend Breakfast Show on Greatest Hits Radio Saturday and Sunday mornings, the critically acclaimed Hot Mess Mums podcast and is developing a TV show looking at her Cape Coloured heritage and her ethnic roots in South Africa.



She first came to prominence presenting the cult music show No Limits for BBC 2 and then quickly became a firm favourite on children's TV, hosting such shows as UP2U, Ghost Train and Gimme 5. She went on to host a huge range of TV shows such as Top of the Pops, To Buy or Not To Buy, Soap Fever, Live Talk, Wordplay,  Jenny Powell's Luxury Uncovered, Food and Wine Adventures, and the hilarious Saturday night show ITV1  BIGHEADS with Jason Manford and Kris Akabussi.