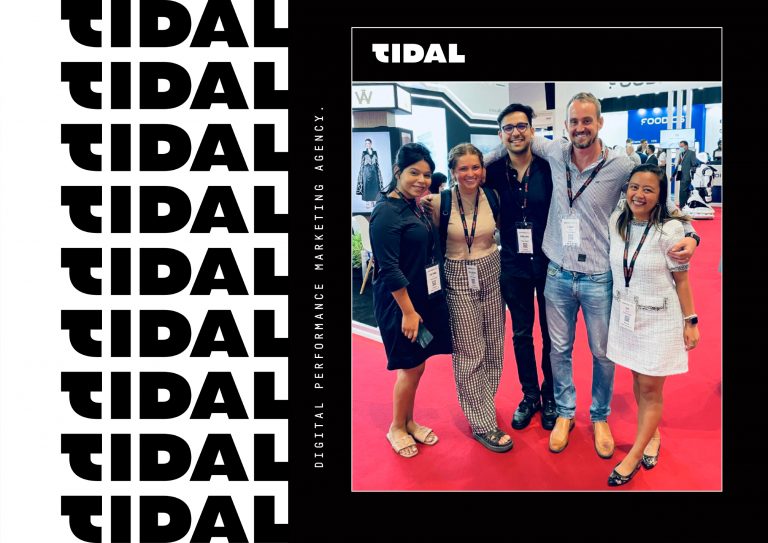 In just three short years, TIDAL DIGITAL have brought home no less than fifteen awards, from both regional and global award ceremonies. Taking on giants of the digital marketing world, the subtext of their story echoes that of David and Goliath.

Having won Best Start Up of the Year in both the Global and Mena Search Awards last year, their 3rd and current year sees them running without the start-up moniker. This year's awards season has kicked off true to form for the now established organisation and at present, are in the running for five awards at the Global Search Awards '22.
Best Use of Search – Retail/Ecommerce PPC (Small)
Working with Perfume Direct since 2020, the business has gone from strength to strength. The most recent campaign run by TIDAL, New Scents of Direction, has seen them switch strategies to keep ahead of the curve and further scale Perfume Directs operations.
Overseeing the development of a new website, of which the design focussed on improving usability for both customers and the agency, they've been able to adapt the site on the fly, to maximise the potential of heatmaps and funnels, bringing home some incredible results.
The same campaign is also nominated for Best Use of Search FMGC (Small) and Best Integrated Campaign.
Best Use of Search – Automotive
Working with the prestigious British brand Rolls-Royce, their campaign Catching Unicorns was named in relation to the incredibly difficult job of creating target audiences for a business who sell exclusively to a very specific demographic.
With this mammoth task, the entire agency's fleet of experts have had to pull rank, learn new ways of working and nurture the campaign, refining and building as they go and bringing with that some fantastic results.
Best Global Small Integrated Search Agency
There was really no doubt that after their success as a start-up, TIDAL would be in for this award. Stepping into the world of established digital marketers, they have continued on their steady trajectory. Boasting high retention of both clients and staff is a strong indication that whatever they're doing, they're doing it right. But have they done enough to scoop the award? We'll find out soon.
What has been the key to TIDAL's success?
In a fast-paced environment such as digital marketing, the game can change seemingly overnight. For that reason, a solid understanding of the various tools, data and communication at your hand is essential. Working creatively and with some level of hindsight will favour the brave, and at TIDAL, this is where they see their successes flourish.
Speaking to Liam, one of the co-founders about what the awards mean to the agency, he had this to say.
"We've built an exceptionally strong and diverse team over the past three years, hiring people in three different countries, it's been no mean feat to do this and we've had to endure some pain along the way in terms of finding the right talent that fit in to our ethos. The current dream team we have are an incredibly skilled and passionate set of superstars who are achieving some breathtaking results for their campaigns across small, medium and globally recognized brands. For me the awards are not just for the agency or the founders, the awards are for the team. For our team to be recognized and potentially become award winners on arguably the biggest stage of all at the Global Search Awards would be a credit for all of the hard work and passion they put in everyday."
So as we approach the big day, all eyes will be on TIDAL to see how their transition from start-up to superstars has worked out.
To read more about TIDAL's success and business practices, you can visit www.tidal.digital – or give them a follow here on LinkedIn.