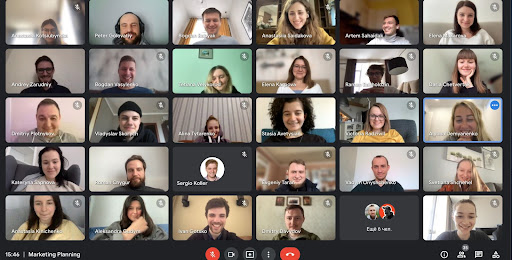 We often say that SE Ranking is an SEO platform with tools for every task in search marketing. But SE Ranking is also a team of incredible people who, despite the worst things happening around them, managed to keep the focus on making the service even better. 
Being nominated for the Global Search Awards twice (in the Best Global SEO Software Suite and Best Global Search Software Tool categories) means that our work is recognized globally, and everything we do is not in vain. 
We'd love to tell you a bit more about our platform, tools, users, and team, who have made this moment possible for us. 
Let's start
Our platform
SE Ranking offers tools for both monitoring and SEO analytics. Monitoring tools help users track their website's SEO metrics and automate routine tasks (rank tracking, website auditing, backlink monitoring, on-page checking, etc.). Analytics tools help users build SEO strategies by providing competitive research and keyword data, backlink analysis, SERP analysis, etc. 
Key facts to know: 
The platform has

over 600,000 users

worldwide and counting. 

According to the G2 reports over the years 2019-2022, SE Ranking is one of the top marketing software solutions. The ranking is based solely on users' feedback.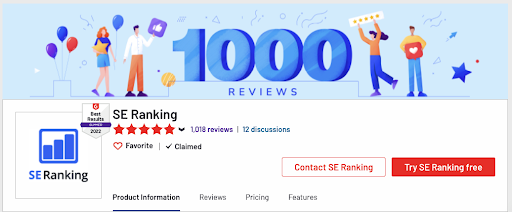 In the last seven months, the product received seven nominations in the UK, APAC (and won!), European, and Global Search awards as the Best SEO Software Suite and the Best SEO Software Tool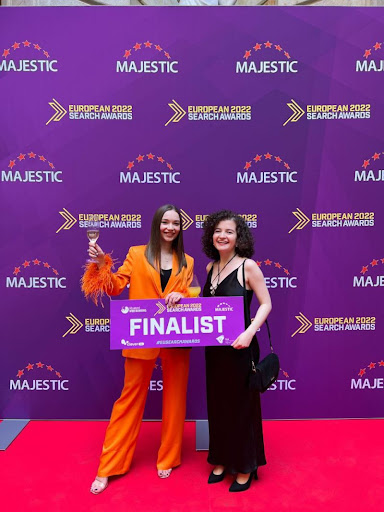 Besides the tools, SE Ranking creates educational tutorials and webinars with leading experts, including Aleyda Solis, Barry Schwartz, Dixon Jones, Lidia Infante, Barry Adams, and other incredible people. 
Altogether, SE Ranking tools and content products aim to make SEO available to people across the globe. 
Follow us on LinkedIn, Facebook, and Twitter! We are fun 🙂 
Key features 
Keyword Rank Tracker–allows users to monitor their rankings daily for any language, location, and device with 100% precision. This tool got us nominated as the Best Global Search Software Tool!    
Competitive Research provides complete data on organic and paid search activities of any competitor in any country in the world. 
Website Audit helps find and fix every technical issue holding a user's website back from top-ranking positions.
Backlink Checker & Monitor allows doing both: explore the backlinks of users' competitors and keep an eye on the statuses of their links.
On-page SEO checker–is an AI-powered tool that, based on a thorough analysis of the top SERP competitors, suggests fixes to a user's page optimized for a specific keyword. Professional SEO Report Builder enables users to share their data at the time and scope they need (with a boss, colleagues, or clients). 
The users 
We have users all over the globe, representing various business niches, including digital marketing agencies, e-commerce projects, in-house teams of enterprise companies, and many more. 
In-house marketers and SEO specialists in charge of a wide range of marketing tasks appreciate that SE Ranking helps solve any SEO-related puzzle. Agencies rely on automated reports, white label services, user seats, exporting, and sharing functions to work on multiple projects simultaneously. At the same time, Enterprise companies choose SE Ranking for its powerful, secure toolset capable of handling large volumes of data. 
To provide users worldwide with proper technical help, the company maintains multilingual support (in English, Spanish, French, German, Ukrainian, and Japanese). 
The team 
SE Ranking unites over 100 specialists in software development, SEO, content, marketing, and customer success. 
Most of its marketing, support, and SEO team members are Ukrainians. And since the beginning of the war, the team has been scattered around Europe, while some of the SE Ranking people stayed in Ukraine.
The team works harder than ever before and aspires to build the best possible service––to keep helping their country, colleagues, and users. 

We are beyond proud to be among the incredible finalists of the Global Search Awards! Thanks to the organizing committee and the judges for such a grand recognition💙