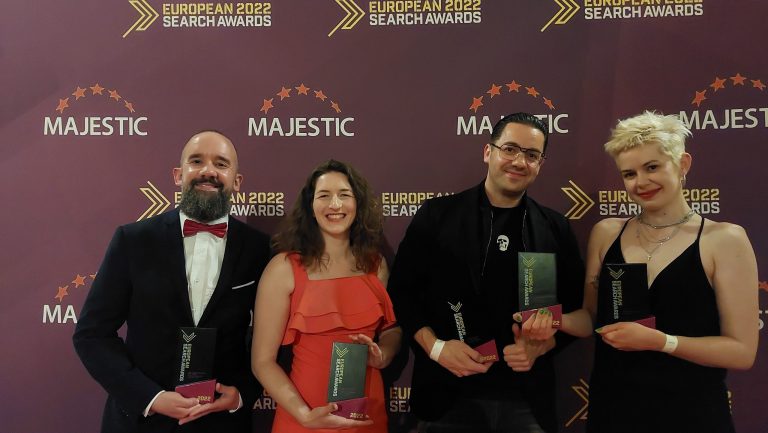 Established in 2007, Peak Ace AG is an international performance marketing agency headquartered in Berlin, Germany, with additional offices in Leipzig, Paris and Nantes. With more than 210 employees, we implement campaigns in over 20 languages at native speaker level all over the world and offer flexible, data-based solutions for all relevant performance marketing channels from a single source.
Our core business is performance marketing, which includes services in paid advertising, organic search (SEO), content marketing and marketing technologies – such as conversion rate optimisation and digital analytics.
Working closely with world-renowned brands such as Airbnb, SEPHORA, OTTO Group and A&O Hotels and Hostels, we have established ourselves as a confident market-leader thanks to our dedication to consistently delivering excellence – and we have been recognised multiple times in industry awards ceremonies at an international level to boot.
Entering the Global Search Awards in 2022 wasn't even a question for us. Awards that celebrate innovative and engaging work are right up our street, and we were keen to put ourselves forward for a number of categories. We were delighted to be shortlisted 16 times for an incredible 11 awards! That means we're even competing against ourselves in some categories.
We entered for three agency awards: Best Global Large PPC Agency, Best Global Large SEO Agency, and Best Large Integrated Agency. In these submissions we detailed our agency objectives, how we achieved them, and h of course, how our agency grew bigger and better as a result! We were shortlisted for all three awards.
We also submitted for multiple campaign awards with two top clients: SharkNinja and Softgarden. We are pleased to report that these were shortlisted for Best Use of Search – Retail / Ecommerce PPC Large, Best Use of Search – B2B PPC Large, Best Use of Search – B2C PPC Large, Best Integrated Campaign Large (twice!), Most Innovative Campaign PPC Large (twice!), Best Global PPC Campaign Large (twice!), Best Use of Data (PPC) Large (twice!), and Best Pan European PPC Campaign (twice!). 
We are passionate about the work we have done with both SharkNinja and Softgarden and excited to see where it may take us in these awards.
SharkNinja, a vacuum and cleaning supplies retailer, wanted to further expand its operations in Europe. After already delivering strong results in 2020, the client challenged us to double their revenue by the end of 2021. We introduced a new structure and we substantially outperformed all of our client targets for the campaign.
The client was delighted!

Softgarden is a company which offers software to manage the recruiting process from start to finish. The client had a strong list of objectives that they wanted us to meet, including increasing leads, decreasing CPL and raising top search impression share and CTR for applicant tracking terms.
We worked on maximising unutilised traffic and keywords, running display and video campaigns and more to ultimately outperform our goals! Conversion rate increased and the total CTR rose, especially in non-brand search traffic.
Of course, our client was also pleased:

We are so proud of our teams and all the hard work that went into putting these campaigns together, and also so grateful to our great clients for their trust and support in our work.
We can't wait to attend the Global Search Awards virtual celebration and ceremony on July 21st with our fellow finalists and find out who will be taking home the big prizes! See you there.
For more information about us and the work we do, you can always find us on Twitter, Facebook, LinkedIn and Instagram, or on our website. See you there!